NetSuite Offers Numerous Benefits to Manufacturing Businesses
NetSuite's industry-leading cloud manufacturing software is the perfect choice for manufacturers who want a comprehensive business solution. With its comprehensive functionality, you can easily manage inventory with dynamic replenishment, keep your production plans organized, control warehouse operations and logistics, gain insight into financial accounting and costing processes, maintain relationships with customers and partners, and even manage your ecommerce presence – all from a single source.
NetSuite's cloud manufacturing software offers reliable scalability to meet the demands of growing businesses as well as automation to streamline operational processes. Plus, it provides visibility into the entire manufacturing process so you can make informed decisions quickly while keeping cost under control.
NetSuite offers built-in support for manufacturing processes and industry-specific dashboards.
Reduce costs with automated real-time financial processes, in-depth inventory management, streamlined order fulfillment and tracking capabilities. Additionally, it provides audit trails for regulatory compliance requirements and ensures accurate billing data. Its advanced analytics and reporting features help you gain insights into customer preferences and track performance metrics such as lead times and cost per item.
Extel Technologies Increases Manufacturing Efficiency By 20% With NetSuite
NetSuite's Manufacturing Benefits:
WIP (Work In Process) and Routings are features of NetSuite that allow businesses to streamline their manufacturing process. WIP helps manage the costs associated with production, while Routings provide a way to define processes and streamline operations.
NetSuite WIP allows you to track materials, labor, and overhead costs associated with each stage of the manufacturing process. This gives you a better understanding of costs across your entire operation and helps you make more informed decisions.
Routings provide an easy way to define manufacturing processes. They enable you to easily create sequence of steps necessary for completing production tasks, such as component assembly or packaging. This ensures that your products are always produced in the most efficient way possible.
Customized Work Order and Assemblies are features specifically designed to streamline and manage your manufacturing operations.
Customized Work Orders enable you to define production tasks, assign resources and materials, as well as monitor progress in real-time. This helps you keep track of all aspects of production, from start to finish.
Assemblies in NetSuite are virtual items that represent physical products or components that are used for assembly in the production process. These assemblies allow you to track each component and its usage, making sure that all necessary parts are available for each order. Furthermore, it ensures that the correct quantities of parts are used during assembly.
Supply and Demand Planning is a comprehensive suite of tools that helps you manage the demand for your products and services. It enables you to forecast demand, plan inventory levels, schedule production activities, and analyze sales performance.
NetSuite's Supply and Demand Planning tools provide powerful insights into customer needs and product popularity. This helps you make more informed decisions about which products to stock, when new orders need to be placed, and what promotions should be running.
It also provides valuable insight into how inventory levels are impacted by seasonal fluctuations or changes in consumer demand. With this information, it allows you to optimize stocking levels according to anticipated sales volume.
Production Scheduling is a powerful solution for managing the production process. It provides an intuitive and user-friendly interface that allows you to easily create, modify, and delete production schedules.
It helps you keep track of orders, define tasks, assign resources, plan workflows and optimize production process timelines in order to minimize delays and maximize efficiency. NetSuite's Production Scheduling also enables you to measure key performance indicators such as on-time delivery rate, production output per hour, resource utilization and more.
In addition, it allows you to identify areas of discrepancy in order deadlines or resource requirements and make real-time adjustments if needed.
Product Data Management (PDM) is a set of tools designed to help you manage and store all product data related to your business. It enables you to centralize product information, manage multiple versions and revisions of product data, and keep track of changes made in the past.
NetSuite's PDM also helps streamline product launches by helping you organize marketing materials such as images and content related to a new product launch. Additionally, it helps you track customer warranties and orders for each specific product item.
The system helps prevent errors with versioning control and offers automated workflows for design changes, allowing you to make sure that everyone has access to the most up-to-date version of product data.
Quality Management (QM) is a comprehensive system designed to help you manage quality and compliance processes across the entire business. It allows you to standardize and track quality control processes, helps identify root causes of product issues, optimizes supplier performance, and ensures that customer requirements are met.
The system provides visibility into organizational processes and enables users to track key performance indicators such as non-conformances, defect rates, rework costs, supplier rejections and more. Additionally, NetSuite's QM system helps your team reduce cycle time while increasing customer satisfaction. It also enables you to create documents related to quality assurance such as checklists, inspection reports and process instructions.
Why Manufacturers Are Switching From QuickBooks to NetSuite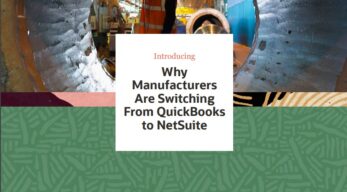 QuickBooks is a natural starting point for many businesses looking to
make their business operations simpler and more efficient. But in time,
these companies develop an overreliance on those static spreadsheets
and limited accounting systems.
NetSuite provides manufacturing companies with a suite of modules that can be tailored to meet their specific needs. With the stairway approach, you can start small and add more tools as your business grows and matures. This way, you don't have to invest in a full-fledged ERP system right away and can get started with the features you need now.
We can help you leverage the NetSuite manufacturing modules that fit your current requirements, while preparing for future growth by planning ahead for additional features. Our team of experts will guide you through each step of the implementation process and ensure that your system meets all of your needs.
At CloudConnect Consulting, we provide more than just software. We are committed to helping our customers succeed and grow their businesses. Our team is always available to provide guidance and support with implementation and beyond.