NetSuite powers top enterprises, the most innovative mid-size organizations, and the most efficient small businesses with powerful, advanced technology. As global adoption of the cloud is accelerating, NetSuite continues its success in delivering the best cloud ERP / financials suites to businesses around the world enabling them to lower IT costs significantly while simultaneously increasing productivity.
NetSuite is highly scalable, customizable, and designed to support your company as it grows and changes. A recent Gartner study named NetSuite as the fastest-growing financial management systems vendor in the world.
NetSuite is the #1 cloud ERP system on the market that helps businesses run more efficiently and cost-effectively.
What is ERP | NetSuite Demonstration: Enterprise Resource Planning is a business management tool that integrates all functions and departments into one single system to streamline information, synchronize reporting, and automation across the entire organization. Learn how NetSuite, the leading cloud ERP solution, can change connect and unify accounting, HR, inventory, order management, CRM, and much more.
ERP Software That Grows With Your Business
From start-up to global corporation, NetSuite's cloud-based business software solution scales to meet your growing needs every step of the way. This award-winning software allows you to start small, establish a foundation, and effortlessly scale and grow into the future.
NetSuite offers a comprehensive suite of integrated applications such as accounting, enterprise resource planning (ERP), customer relationship management (CRM), and ecommerce capabilities that allow you to manage all facets of your business with ease. With NetSuite's innovative solution, you can reduce manual labor, boost employee productivity and enjoy greater visibility into every aspect of your operations.
What Type of Business Is NetSuite For?
NetSuite is a cloud-based business software solution designed for businesses of all sizes and industries. From start-ups to global corporations, NetSuite's powerful platform is scalable enough to meet the changing needs of any organization.
NetSuite offers comprehensive capabilities such as accounting, enterprise resource planning (ERP), customer relationship management (CRM), ecommerce solutions and more. This makes it easy for businesses to streamline their operations, manage every facet of their company with ease and have greater visibility into all aspects of their business.
Whether you are looking for a one-stop shop to manage all facets of your business or an 'out-of-the-box' solution tailored to specific operations, our experienced consultants will work with you to find the best implementation approach that suits the unique needs of your individual organization. Contact us today to learn more about how NetSuite's business solutions can help your company succeed!
NetSuite Financial Core features provide essential functionality for all types of businesses – from startups to multi-national companies. Features include:
NetSuite eCommerce Core features provide essential functionality to create, manage and optimize a successful omnichannel eCommerce business. Features include:
General Ledger
Accounts Receivable & Payable
Budgeting & Forecasting
Multi-currency Capabilities
Tax Accounting & Reporting
Consolidation & Intercompany Transactions
Cash Management & Bank Reconciliation
Fixed Assets Management
Multi-site & Multi-brand Support
Product Information Management
Automatic Price & Promotion Updates
Real-Time Inventory Visibility
Social Media Integration
Multiple Payment Options
Customer Management & Segmentation
Comprehensive Reporting & Analytics
With NetSuite, you get powerful financial software that can be adapted to your business needs and can grow with you as you expand.
NetSuite eCommerce Core features provide the tools you need to develop and grow your online business.
NetSuite ERP Core features provide essential functionality for business operations. Features include:
NetSuite CRM Core features provide essential functionality for customer relationship management. Features include:
Enterprise Resource Planning
Supply Chain Management
Order Management & Fulfillment
Procurement & Vendor Management
Business Intelligence & Analytics
Manufacturing & Production Planning
Manufacturing Execution System
Quality Control & Compliance Monitoring
Automated Lead & Opportunity Management
Flexible Campaign Management
Comprehensive Sales Analytics
Integration with Financials, ERP and eCommerce
Quote & Order Processing
Self-Service Portal & Customer Support Tools
Mobile-Friendly Accessibility
Contact & Social Media Data Management
NetSuite ERP Core features provide the platform to power your business operations and drive growth.
NetSuite CRM Core features give you the power to build strong relationships with your customers and drive sales growth.
Conduct Business Anywhere Anytime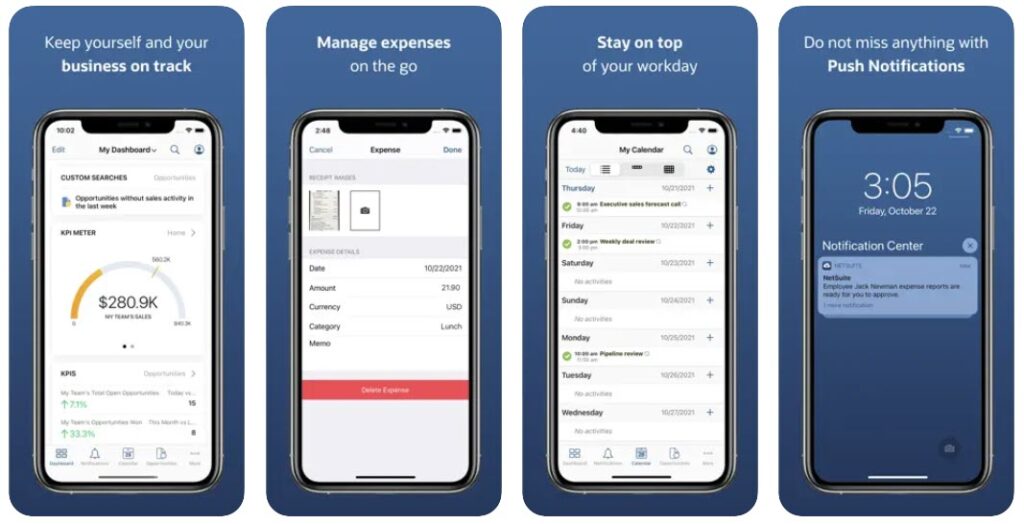 The official NetSuite for iPhone and iPad apps enables unparalleled access to the World's #1 Cloud Business Software Suite – the unified business management suite, encompassing ERP / financials, CRM, HCM and ecommerce.
Maintain the same 360° control of your business as you do from your PC with this free app. Works out-of-the-box with all standard roles.
Full Record support – view, create, and edit records including Custom records.
Home Dashboard synchronization – access your Home Dashboard content including KPI metrics and Scorecards, Trend Graphs, Report Snapshots, and more.
Record customization support – all existing customizations including custom forms, fields and scripts work out-of-the-box.
Expense management – track your expenses using the Expense Log (including receipt capture), then create an Expense Report with just a few taps.
Time Management – track your time using the convenient Timer and My Time functions, create Time Entries directly into NetSuite.
Complete Activity management – Manage your calendar across list, week and month views. View other calendars including fellow employees.
Business action support – approve Sales Orders and Expense Reports, convert Estimates, accept Customer Payments, bill Sales Orders and more.
Saved Search support – get all the results and drill down to record level using any existing Saved Search (including Summary types).
Swipe Actions – simply swipe to map customer locations, initiate phone calls, respond to events or quickly start Editing.
Localization – instantly adapts to your NetSuite language setting.
Time Zone Synchronization, Global Search, Quick Add, Recent Records and loads more.
Push Notifications – have NetSuite instantly notify you of any changes to business critical information.
How Much Does NetSuite ERP Cost?
NetSuite ERP is a powerful cloud-based business software solution designed for businesses of all sizes and industries. The cost of NetSuite ERP depends on several factors, such as the type of licensing model you choose (cloud-hosted or on-premise), the number of users, and more.
NetSuite offers monthly subscription plans that range to fit your business needs per user per month. Additionally, an Implementation fee will apply depending on your individual business needs and the complexity of your setup.
At CloudConnect Consulting, we understand the importance of finding a cost-effective solution that meets your unique business needs. That's why we specialize in negotiating with NetSuite to get you the best pricing possible on your NetSuite license. Our knowledgeable team can help you find the right combination of features, services and support at a price that fits your budget. 
NetSuite is designed to help businesses increase operational efficiency, reduce costs and maximize profits. Discover how NetSuite can pay for itself with a free demo!