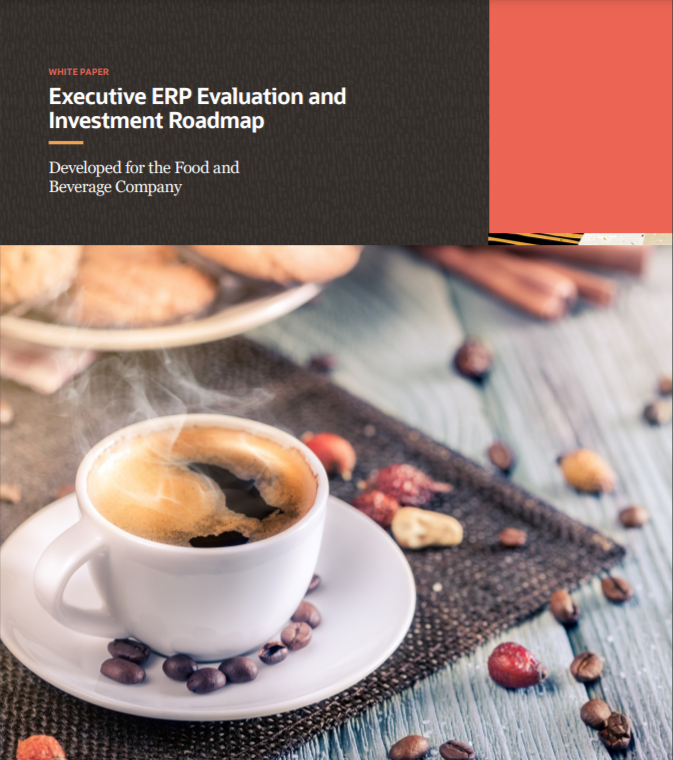 Executive ERP Evaluation
Investment Roadmap:
Developed for the Food and
Beverage Company
In today's business world, with so many solutions
to consider across Enterprise Resource Planning
(ERP), Customer Relationship Management (CRM),
inventory management and ecommerce, the
task of choosing may seem daunting. Although
choosing the right solution and provider for your
organization may be a long, taxing process, the
rewards can be substantial. The right ERP system,
implemented efficiently and built to enable the
business' strategy can:
Increase efficiencies across the entire organization.
Improve your profit margins through better visibility into vendors, customers, inventory and costs.
Increase revenue and brand awareness.
The ERP experts at NetSuite have built this guide
to help you and your team decide on the solution
that works best for you and to help set you up for a
successful implementation. The process outlined in
this guide is a widely accepted evaluation process
and is a valuable exercise for any major technology
implementation project.

How will this guide help you to successfully select
a software solution for your food and beverage
business? First, it will help guide you toward the
reason and value for making a change; second it
will align your organization on the specific benefits
of a new software solution across all of your supply
chain and operations.

Thank you for taking the time to review the
Executive ERP Evaluation and Investment Guide—
we hope to be given the opportunity to work
through this process with you.

Sincerely,
The NetSuite Food and Beverage Team

Why are we beginning this journey?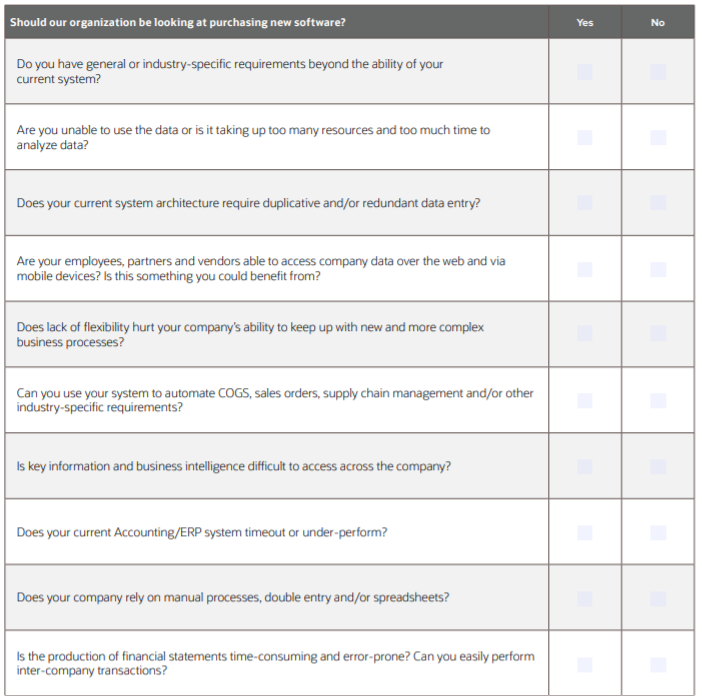 What is your organization's long-term vision in 100 words?

Strategy
Building and executing a strategy is essential in achieving your organization's long-term vision. Use the
section to help align your internal goals. This will not only help identify day-to-day priorities, it will also help
identify ERP priorities.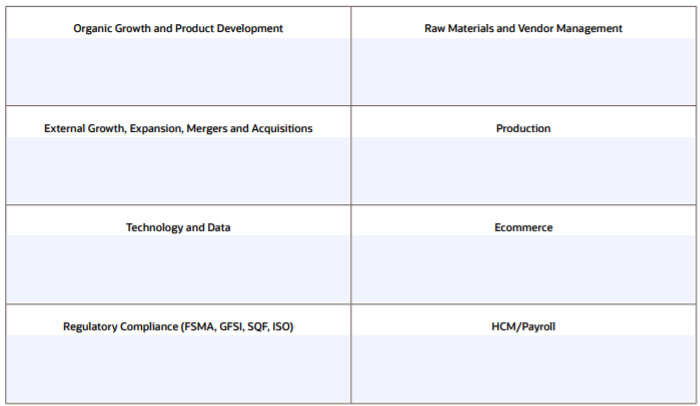 Your Organization at a Glance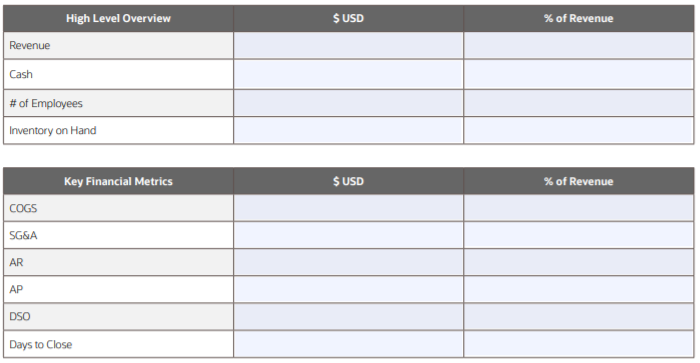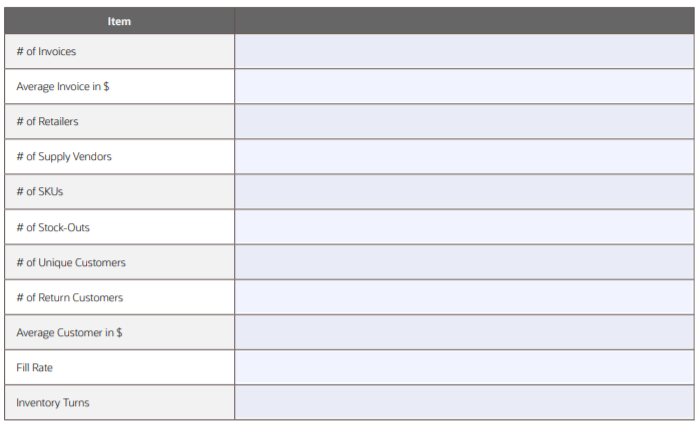 Your Organization at a Glance – Continued

Functionality Requirements and Vendor Comparison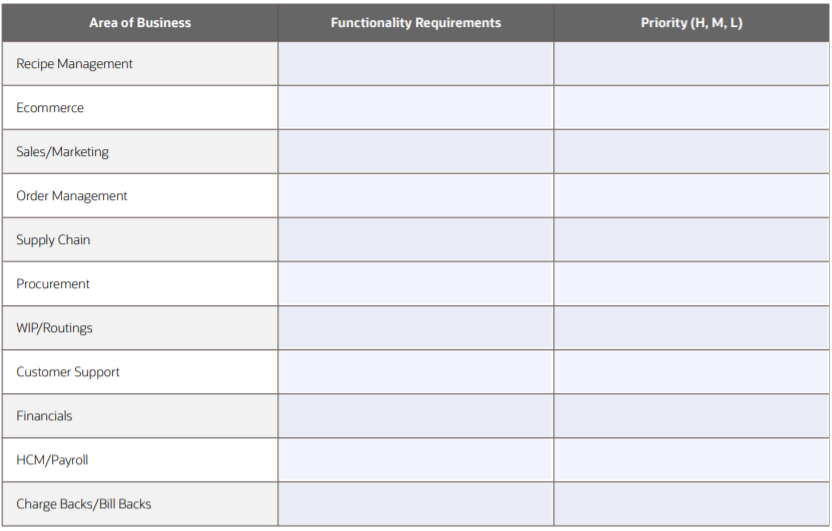 Functionality Requirements and Vendor Comparison – Continued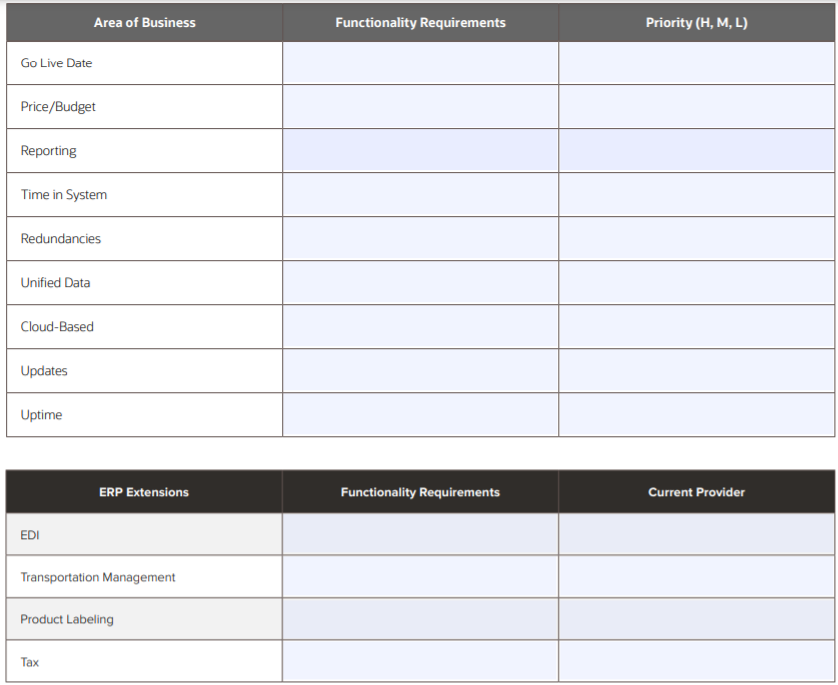 Engage
Ask your employees for the best and worst thing about the current system.
Employees are your best resource to better understand your day-to-day issues. Taking some time to listen
to them does a few things:
It helps you get a better understanding of what impacts their morale and ability to get the job done.
It will help build engagement and buy in for a new digital strategy and solution.
It will help leadership discuss upcoming changes, prepare employees for change and reduce any surprises.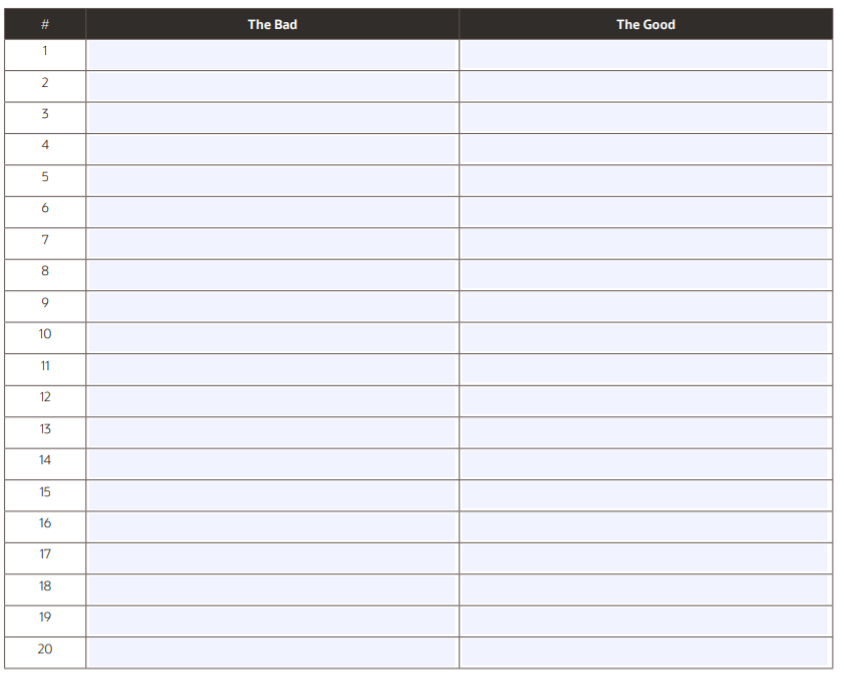 Joint Evaluation Plan
The evaluation process for a new system and partner can be challenging and time consuming. The Joint
Evaluation Plan (JEP) can be used to track key milestones and deliverables throughout your selection
process. It will also be a valuable tool to help hold vendors accountable to your timeline.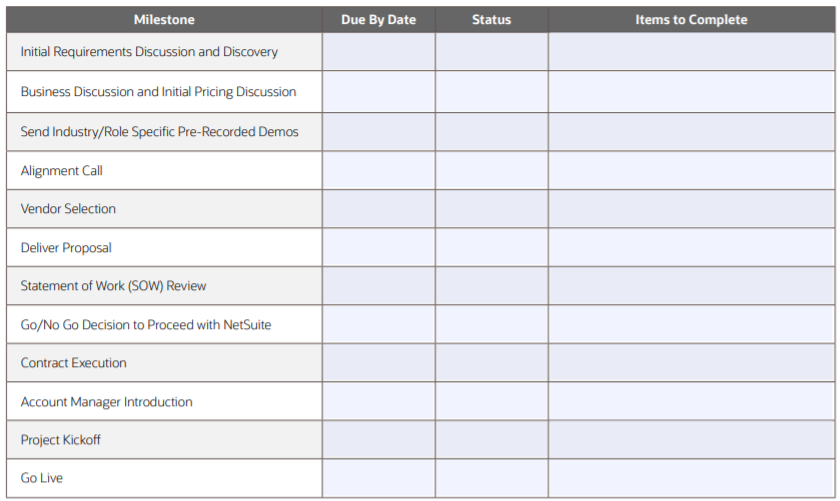 NetSuite SuiteSuccess Deployment
"Zero to Cloud in 100 Days"
At NetSuite, innovation is at the core of what we
do and how we deliver value to our customers.
SuiteSuccess is designed with years of experience
in cloud ERP implementation and leading practices
from industry knowledge to help our customers
meet their business needs and industry requirements. SuiteSuccess is an agile and phased approach starting from sales and moving into implementation, and post implementation support that enables us to provide our customers with a successful ERP implementation in record time. Additionally, our continuous support ensures they can always get the most out of NetSuite. With SuiteSuccess, NetSuite delivers unprecedented customer experience and tangible business outcomes.
For You

– SuiteSuccess delivers a solution that has been built for each industry and each role in that industry. Every user will think they are using a product that was built specifically for them.

End-to-End Customer Engagement Model

–Consistent engagement from sales through service, support and beyond. Allowing customers to start their implementations from the time they first speak with a NetSuite sales person.
Vertical specific solution with leading practices
built in – Including modules, workflows, reports,
KPIs, and analytics that are constantly improving
based on successful implementations in
thousands of companies.

Intelligent Phased Approach

– Allow customers
to rapidly implement the product in manageable
segments, deliver success quickly on solid
foundations and introduce new capabilities when
needed. Ensuring customers always remain
competitive and never fall behind or fall victim to
drawn out "big bang" projects.

Flexibility and Scalability

– Allows customers
to add their own unique requirements where
needed and scale around the globe.

Zero to Cloud in 100 Days

– Proven rapid ROI.

NetSuite Industries

– Advertising, Distribution,
Fashion, Food and Beverage, Health and Beauty,
Manufacturing, Media and Publishing, Not-for-Profit, Retail, Services and Software.

Success

– Deliver what we sell and sell what we deliver.